Not exactly, we do have one movie on Prime. Not relevant to ur query but just found Humble Politician Nograj on Amazon Prime.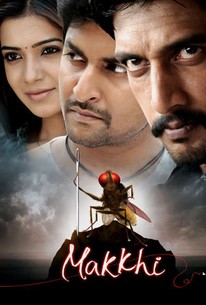 Makkhi alias Eega has started its buzz around the globe from 6th July 2012. The buzz is now shaking the bollywood box office; the most awaited Makkhi alias eega is now making its sound all around the country. The movie is all about unexpressed Love, Untamed Lust, Murderous Jealousy, Rebirth and Revenge. The film has also dubbed into Malayalam as Eecha and now into Hindi as Makkhi.
The movie begins with a simple love story between Samantha and Nani, where Rajamouli has started with the flavors of fun and comic. Everything goes same like any other love story until the entry of Sudeep(Villain)who creates the obstacle in the movie. Sudeep who is well known as Kiccha has played a negative role for the first time in a Telugu movie.
In the movie, Sudeep is a big business magnet who has lust on Samantha (Bindu). Samantha is a micro metal maker and she runs an aided children orphanage. Once she meets Sudeep to get donation for her orphanage Sudeep gets attracted to her and starts to make love with her but he does not know that she is in love with Nani. Sudeep thinks if he murders Nani, his love track will be clear and so he murders Nani.
But the unexpected twist and the Makkhi alias Eega(Fly)Buzz starts from here. Nani takes rebirth as Makkhi alias Eega(Fly) and takes revenge on Sudeep. The way Makkhi alias Eega(fly)gives hints to Sudeep and Samatha, that it is actually Nani is the most exciting part in the movie. Viewers will stick to their chairs in the theatre with excitement.
S.S.Rajamouli has once again proved that he is the best director in the tollywood. After giving hits like Maghadeera, people started thinking will he be able to give a better movie than Maghadeera? If you have the same question in your mind then Makkhi alias Eega is the best answer for it. M.M.Keeravaani has given an average music, the costumes used in the movies shows the efforts of Rama Rajamouli. Makuta VFX Team has given their best on graphics and technical aspects.
We generally think how an Makkhi alias Eega(Fly) can harm a people. But after watching the movie, you will withdraw your statement making you to believe that an Makkhi a.k.a Eega(Fly) can also take revenge. Only Rajamouli could have handled it, and he has handled it brilliantly. For Sudeep, Makkhi a.k.a Eega is the best movie in his career; he acted with just the imagination of a bug in front of him which is the most difficult part in acting.
Overall you will not have guilt of wasting your money. Watch and enjoy.
Makkhi a.k.a Eega Crew
Production Home: Vaarahi
Director: S.S. Rajamouli
Music Director: M.M. Keeravaani
Camera: K.K. Senthil Kumar
Graphics: Makuta VFX Team
Costumes: Rama Rajamouli
Editor: Kotagiri Venkateshwara Rao
Script Writer: S.S.Kanchi
Screen Play: Janardhana Maharshi
Producer: Sai Korrapati
Makkhi alias Eega Cast
Samantha Prabhu as Bindu (heroine)
Nani as Nani (Hero)
Sudeep as Sudeep (Negative Hero)